Welcome to the Village of Port Dickinson!
If you are not familiar with our Village, we lie within the town of Dickinson, north of the city of Binghamton, in Broome County.
We have developed this website as a source of information for our residents.
If you need to pay your taxes or your water/sewer bill you can do that here.
We have information about our village meetings, parks, history, and budget reports.
If you're looking for a building permit application visit our Downloadable Forms Page.
Need information about surrounding services? Visit our Useful Local Links Page.
When we have special announcements for the village they will be posted on our home page in the Announcements section.
If you have any questions or would like more information about the village please contact us via the contact information below.
Thanks for visiting!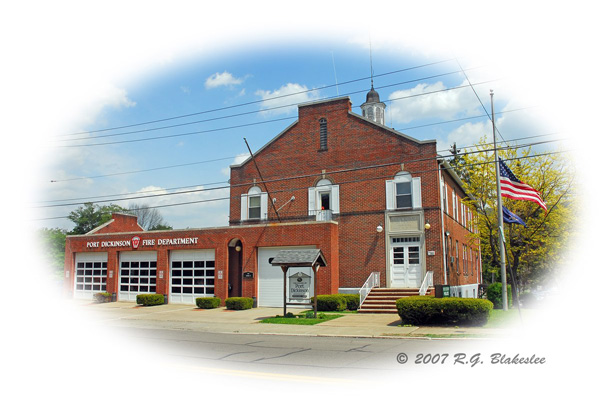 INFORMATION RELATED TO COVID-19 / CORONA VIRUS :
The Village is in continuous communications with all Broome County Agencies receiving updates on this crisis as provided.
The Broome County Administration has been excellent in providing guidance to our Police, Fire and Medical Responders.
We assure you that we will do everything conceivable to protect our Village residents.
 If you have any questions please call:
 NYS Dept, of Health Hotline: 1-888-363-3065
Or
Broome County Health Dept. Hotline 778-8885
SPECIAL ANNOUNCEMENT
TO ALL VILLAGE OF PORT DICKINSON RESIDENTS IN REGARDS TO OUR SANITARY SEWER SYSTEM.
DURING THIS TIME OF CRISIS WE MAY FIND THE NEED TO DISPOSE OF CERTAIN
PRODUCTS BY MEANS OTHER THAN THROUGH OUR NORMAL GARBAGE CAN DISPOSAL PROCESS.
PLEASE REFRAIN FROM PLACING ANY MATERIAL IN YOUR TOILETS OTHER THAN NORMAL TOILET TISSUE.
NOTE THAT ANY OBSTRUCTIONS IN YOUR SANITARY SEWER LINES ARE YOUR RESPONSIBILITY.
WATER/SEWER READINGS & BILLING
June 1-10: Reading period,                                July 1-10 Reading Period
July 1-31: Payments due
2019 Village of Port Dickinson Comprehensive Plan
April 21, 2020 Open House has been CANCELLED
VILLAGE OF PORT DICKINSON
NOTICE OF RECEIPT OF TAX ROLL AND WARRANT
 PLEASE TAKE NOTICE that I, Susan Fox, the Village Clerk/Tax Collector of the Village of Port Dickinson, have duly received the tax roll and warrant for the collection of taxes within the Village of Port Dickinson for the year 2020, and that I will attend at 786 Chenango Street, Binghamton, NY from June 1, 2020 up to and including July 1, 2020, from 9 a.m. to 4 p.m. of each day, excepting Saturdays, Sundays and holidays, for the purpose of receiving the taxes listed on said roll.
 TAKE FURTHER NOTICE, that taxes may be paid on or before July 1, 2020 without charge or interest.  On all taxes received after such date, there shall be added interest 5% if paid on or before July 31, 2020 and an additional 1% for each additional month or fraction thereof thereafter until such taxes are paid or until the return of unpaid taxes to the county treasurer pursuant to law.
TAKE FURTHER NOTICE, that pursuant to the provisions of law the tax roll of the Village of Port Dickinson will be returned to the County Treasurer of Broome County on the 1st day of November, 2020.
Dated: May 14, 2020                                      Susan Fox, Village Clerk/Tax Collector
Village of Port Dickinson